Established in 2010, Parimatch Casino has been delivering a superior gaming experience for over a decade. With a formidable reputation in the industry, it has garnered the favor of casino enthusiasts worldwide.
Parimatch Tanzania, found at the web address parimatch.co.tz, is operated by Ultimate Gaming System Limited, a company incorporated under the laws of Tanzania. It holds a sports betting license with the number SBI000000012, issued by the Tanzania Gaming Board. Furthermore, the online casino aspect of the website is licensed by the Tanzania Gaming Board under license number OCL000000004.
Parimatch Casino Tanzania places paramount importance on player safety and the protection of sensitive data. Cutting-edge encryption technology is employed to safeguard all personal details and financial transactions. This robust security infrastructure ensures that players can engage in their favorite casino games with the peace of mind that their data remains secure.
The gaming selection at Parimatch Casino Tanzania is extensive and diverse. Whether one's preference leans towards classic table games such as blackjack and roulette, exciting video slots, or immersive live dealer experiences, a wide array of options awaits. The casino has partnered with industry-leading software providers like NetEnt, Microgaming, and Evolution Gaming to deliver many high-quality games featuring stunning graphics and seamless gameplay.
Moreover, Parimatch Casino Tanzania prides itself on offering a user-friendly and seamless experience. The website boasts a sleek interface, facilitating easy navigation and quick access to favorite games. The casino also provides convenient and secure payment options, ensuring smooth and hassle-free deposits and withdrawals.
A standout feature of Parimatch Casino Tanzania is its unwavering commitment to responsible gambling. The casino actively promotes responsible gaming practices and equips players with various tools to maintain control over their gambling activities. These include self-exclusion options, deposit limits, and access to valuable resources for those in need of gambling addiction support.
Website Design
The Parimatch Casino Tanzania website offers an aesthetically pleasing and user-friendly design, providing players with an enjoyable and intuitive online gaming experience. The website's layout is well-organized, making it easy for users to navigate through various sections and find their desired games or information.
The overall design of the website combines modern elements with simplicity, creating a visually appealing interface. The use of clear and legible fonts ensures that important information is easily readable. The color scheme is typically a combination of vibrant and bold colors, which adds a touch of energy and excitement to the overall look of the site.
In terms of functionality, the Parimatch Casino Tanzania website is designed to be highly responsive and fast-loading, allowing players to access their favorite games and features without any unnecessary delays. The platform is compatible with different devices and screen sizes, ensuring a seamless experience whether you're accessing the site from a desktop, laptop, tablet, or mobile device.
The user experience is a key focus of the Parimatch Casino Tanzania website. The intuitive interface makes it simple for players to browse through the game library, filter games based on specific preferences, and access important account-related features such as deposits, withdrawals, and bonus offers. The search function allows players to quickly find their favorite games or explore new titles.
The website also provides informative sections that offer details about promotions, terms and conditions, responsible gambling, and more. This ensures that players have access to all the necessary information and can make informed decisions while enjoying their gaming sessions.
Parimatch Casino Games Portfolio
Parimatch Casino Tanzania is an online gambling platform that offers a wide range of casino games to cater to the diverse preferences of players.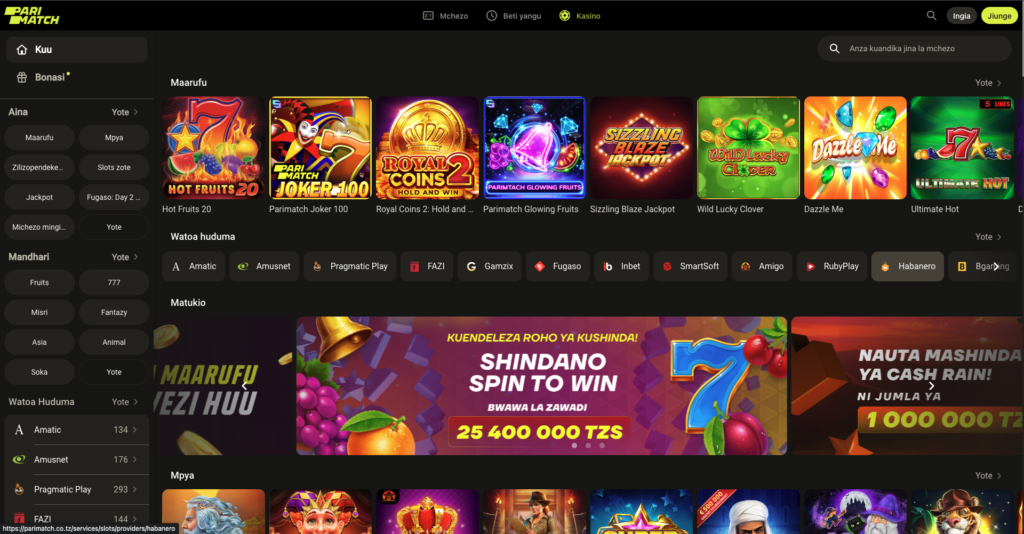 Slot Games
Slot games are a popular choice among online casino players. This is why Parimatch Casino Tanzania has a nice selection of every type of slot game there is. On the left side of the casino section, you'll be able to choose the Most Popular or Recommended slots, but also you can see the slot game selection by theme or by provider. There are many themed slots available, the most popular are the fruit slots which is why the selection is largest. You can find titles like Hell Hot 20, Fruit Million, 20 Super Hot, 20 Burning Hot, Flaming Hot etc. Another separate theme on the Parimatch casino website is the 777, with slots that have the Lucky 7 symbol. Also, you can play slots with "books", as these are in a separate category containing the most popular like Book of Majestic King, Book of Inferno, Book of Jurassic etc.
The casino also offers some branded Parimatch slots which have good ratings and are liked by players. Parimatch collaborated with some of the most reputable providers in the gaming industry. By partnering with the best in the business, the casino ensures that its gaming library is constantly enriched with innovative and entertaining experiences designed to captivate and satisfy the preferences of its diverse player base. They have some fruit slots, like Parimatch Glowing Fruits, Parimatch 10 Hot Joker and Parimatch Joker 100 provided by Spinomenal, Wheel Of Parimatch, King of Parimatch and Book of Parimatch provided by Fugaso.
Table Games
Table games emulate the experience of playing traditional casino games at a physical table. Common table games include blackjack, roulette, baccarat, and poker. These games often offer different variants, allowing players to choose their preferred rules, bet sizes, and gameplay styles. Most popular titles include: European Roulette, Bonus Roulette, High Streak Blackjack, American Baccarat Zero Comission, SicBo, Spooky Witchcraft, Fortune Wheel, Teen Patti Express, Andar Bahar, All American Poker.
Live Casino Games
Live casino games provide an immersive and interactive experience by streaming real-time gameplay with professional dealers. Players can participate in live versions of popular table games, such as live blackjack, live roulette, live poker, and live baccarat. They can interact with the dealer and other players through a chat function, adding a social aspect to the gameplay. Most popular games are: Crazy Time, PowerUp Roulette, Mega Sic Bo, Spin a Win, Parimatch Cricket Duel, Monopoly Live.
Video Poker
Video poker is an exciting fusion of traditional poker and slot machines, creating a captivating gaming experience. Players engage in strategic decision-making as they strive to assemble the most advantageous poker hand by choosing which cards to retain and which to discard. This dynamic game presents a variety of thrilling variations, including popular options like Jacks or Better, Deuces Wild, and Joker Poker. Each variation offers its own unique rules and challenges, ensuring that players can explore different strategies and enjoy endless entertainment with every hand dealt.
Specialty Games
Some online casinos offer a variety of specialty games to diversify their game selection. These games often include scratch cards, keno, bingo, virtual sports, and other unique titles. Specialty games are a great option for players looking for something different from the classic casino experience. Most popular titles include: Krampus, Scratch or Treat, Keno Deluxe, Candy Keno, Extra Bingo, Candy Dreams Bingo, Real Fighting, Fashion TV Nations League ect.
Parimatch software providers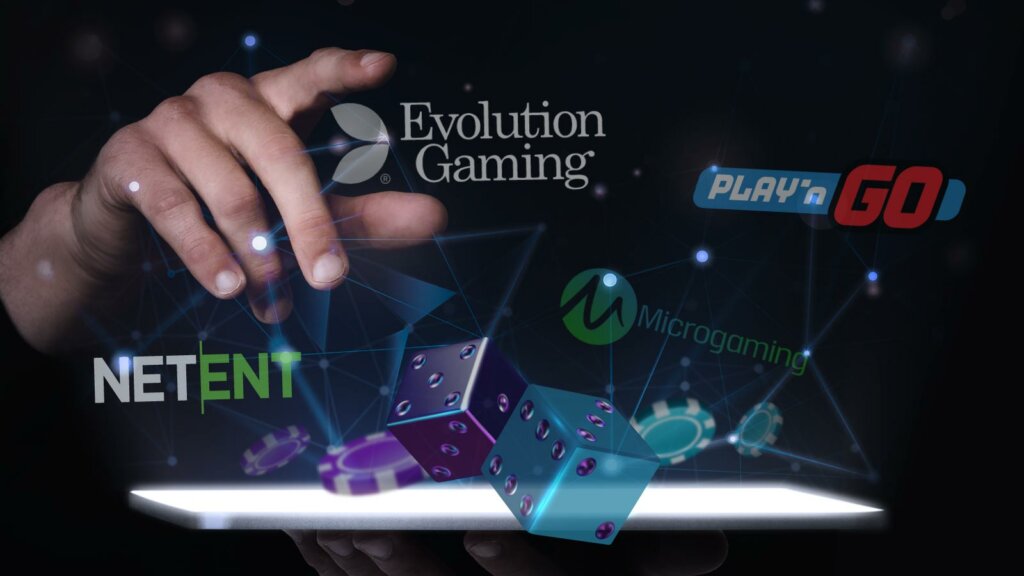 In addition to Fugaso and Spinomenal, Parimatch Casino Tanzania offers an extensive selection of games from over 90 renowned providers, further enhancing the gaming experience.
Among these, you can find Amusnete (formerly known as EGT), a provider renowned for its collection of fruit-themed slots. Pragmatic Play, another prominent provider, introduces players to their popular "Drops and Wins" slots. This series of games is not only entertaining but also a part of year-round promotions that offer enticing cash prizes, free spins, and various other rewards.
For those who appreciate Egyptian-themed slots, Parimatch Casino Tanzania features games by Playson. Their collection of Egyptian-themed slots immerses players in the rich history and mythology of this ancient civilization, providing a unique and captivating gaming experience. Endorphina, known for its high-quality and visually stunning slot games, brings a touch of sophistication to the casino's offerings. Their games are not only captivating but also known for their innovative features and engaging themes.
Betsoft is another prominent provider, celebrated for its exceptional 3D slots and immersive gameplay. With a focus on cinematic experiences, Betsoft's games provide players with an extraordinary level of entertainment. Habanero, on the other hand, specializes in creating diverse and engaging slot games that cater to various preferences and tastes. With a wide range of themes and unique features, Habanero's offerings add a rich diversity to Parimatch Casino Tanzania's gaming library.
Parimatch Tanzania App and Mobile Version
Parimatch Casino Tanzania offers the convenience of playing casino games on the go, directly from mobile devices like smartphones and tablets. While there is no dedicated mobile app available, players can easily access the casino through their compatible mobile browsers. By opening their preferred mobile browser, players can instantly enjoy a wide selection of games offered by the casino. Whether accessing the casino from a web version or a mobile version, players can seamlessly register using the same details, providing a unified experience across different platforms. This allows players to enjoy the flexibility and accessibility of playing their favorite casino games anytime and anywhere, without the need to download or install additional software.
Parimatch Tanzania Bonuses and Promotions
Parimatch 150% Welcome Bonus
The Parimatch casino offers a generous 150% Welcome Bonus, providing players with an opportunity to receive up to 3,500,000 TZS in extra funds. To claim the Parimatch welcome bonus, players can follow these simple steps:
Click the "Activate" button to initiate the bonus activation process.
Make a single deposit of at least 13,500 TZS.
A bonus of 150% of your deposit will be added to the account, with a maximum limit of 3,500,000 TZS.
It's important to note that the bonus amount cannot exceed 3,500,000 TZS, and to qualify for the bonus, a minimum deposit of 13,500 TZS is required. Your bonus will be added to your 30th bet, making your gaming more exciting. To be fair, you can only get one bonus per person, family, home, computer, or internet connection. If you try to sign up multiple times or make fake accounts, you'll lose your bonuses and winnings.
Don't worry, Parimatch takes your safety seriously. They keep your payment information safe and follow the rules to make sure you're protected. If your bonus balance drops to zero, your betting requirements will start over, and you have 30 days to use your bonus money.
Parimatch casino bonus up to 540,000 TZS
Parimatch offers a casino bonus of 25% up to 540,000 TZS. To qualify for this bonus, you need to follow these simple steps:
Click the "Activate" button.
Make a single deposit of at least 54,000 TZS.
Please note that the maximum bonus amount you can receive is 540,000 TZS, and the bonus will be calculated based on the prediction: 35.
Here are some key details to keep in mind:
If your deposit is below 54,000 TZS, you won't receive the bonus.
The bonus will be applied to your 35th bet, and you can check the bonus prediction in the "Bonus games" section within 10 days of placing your bet.
This bonus is limited to one game account per individual, family, residence, computer, or IP address. Violations, such as multiple registrations with fake accounts or gaming groups, can lead to the forfeiture of bonuses and any associated winnings. Any discovered second accounts will be deleted, and all game bonuses and winnings may be voided.
You can easily monitor your betting progress by visiting the dedicated page for this bonus offer. The system securely stores your transaction until it's confirmed, ensuring compliance with legal requirements. The saved amount will not exceed the specified maximum bonus amount.
Remember that if your bonus balance drops to 0, your wagering requirements will reset automatically. The bonus funds remain valid for 10 days from the date of receipt. Once this promotional period expires, any remaining bonus funds and related winnings will be canceled and deducted from your account.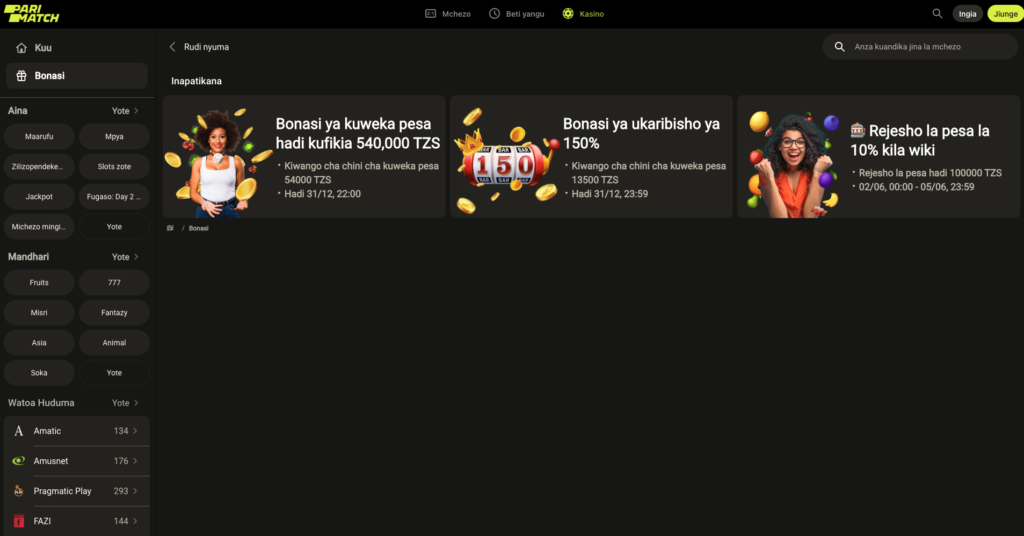 Parimatch Tanzania Payment Methods
Deposits: Parimatch Casino Tanzania offers four convenient mobile payment methods for making deposits: Vodacom's M-Pesa, Tigo-Pesa, Airtel Money, and Halo-Pesa. When registering on Parimatch Tanzania, you will need to provide a mobile phone number that you will use for mobile payments. Here is a step-by-step guide on how to deposit money using Tigo-Pesa:
Dial 15001# to call Tigo-Pesa.
Select 'Pay bills' and enter the Parimatch business number 351144.
Enter your mobile account number as the 'Reference number'.
Input the amount you wish to deposit and enter your PIN number.
Confirm the transaction to complete the deposit process.
Upon successful completion, the funds will be instantly reflected in your Parimatch betting account. It's important to note that for mobile payments, the minimum deposit amount is TZS 100, while the maximum deposit amount is TZS 500,000.
Withdrawal: Withdrawing funds from your Parimatch Casino Tanzania account through mobile money is a straightforward process. Follow these simple steps:
Open your Parimatch account and navigate to the profiles section.
Select 'Finances' and then choose 'Withdrawal.'
Choose your preferred mobile payment service provider from the available options.
Enter the amount you wish to withdraw.
Provide the mobile phone number associated with your registered account.
Click on 'Continue' to proceed and finalize the transaction.
The withdrawal process is instantaneous, and the funds will be immediately reflected in your mobile money account. It's worth noting that the minimum withdrawal amount is TZS 2,000.
Customer Support
Parimatch Casino Tanzania takes pride in providing excellent customer support to ensure a seamless and enjoyable gaming experience for its players. Here are five key aspects of Parimatch Casino Tanzania's customer support:
Live Chat: Parimatch Casino features a live chat option that allows players to communicate directly with the support team in real-time. By clicking on the live chat button, players can initiate a conversation, ask questions, and receive immediate assistance from a knowledgeable support representative.
Email Support: Players can also reach out to Parimatch Casino Tanzania's customer support team via email. By sending an email to the provided support email address, players can communicate their concerns and inquiries in detail. The support team strives to respond promptly, addressing players' issues and providing relevant information.
FAQ Section: Parimatch Casino Tanzania maintains a comprehensive Frequently Asked Questions (FAQ) section on its website. This section covers a wide range of common queries and provides detailed answers to help players find quick solutions to their questions. The FAQ section is a valuable resource that players can consult for general information about the casino, account management, bonuses, and more.
Phone Support: Parimatch Casino Tanzania offers phone support for players who prefer to communicate directly over the phone. Players can find the dedicated support phone number on the casino's website and reach out to the support team during the specified operating hours. Phone support enables players to have a real-time conversation with a support representative and receive personalized assistance.
Social Media: Parimatch Casino Tanzania maintains an active presence on various social media platforms. Players can connect with the casino's official social media accounts to stay updated on the latest news, promotions, and announcements. Additionally, players can reach out to the support team through direct messages on these platforms, receiving timely responses to their inquiries.
How to register at Parimatch Tanzania?
To initiate the registration process at Parimatch Casino in Tanzania, enter your phone number, making sure to include the country code (+255 for Tanzania). This is crucial for account verification and communication. Create a secure password for your account with a minimum of four symbols to enhance security. Choose a combination that is both strong and memorable. Confirm your chosen password by entering it again in the designated field. This step ensures accuracy and helps prevent any typographical errors. Confirm that you are at least 18 years old. This declaration is a necessary step to comply with legal requirements and ensure responsible gaming. Additionally, acknowledge your understanding and acceptance of the Terms & Conditions of the Parimatch Casino Tanzania website.
Conclusion
In conclusion, Parimatch Casino Tanzania stands as a reputable and exciting online gaming destination for Tanzanian players. With its establishment in 2010, the casino has built a strong foundation, offering a diverse selection of high-quality casino games to cater to various preferences. Holding all the necessary licenses and employing advanced encryption technology, Parimatch Casino prioritizes player safety and ensures a secure and fair gaming environment. The dedication to customer satisfaction is evident through their round-the-clock customer support, available through live chat, email, or phone. Additionally, the casino provides enticing promotions and bonuses, further enhancing the gaming experience. Parimatch Casino Tanzania is undoubtedly a top choice for players seeking thrilling gameplay, reliable support, and an unforgettable journey into the world of online casino entertainment.